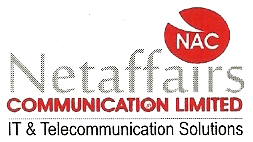 Subcribe to our mailing list and be informed about our latest news and projects at netaffairs.
Netaffairs Communication Limited is committed to providing so far as is reasonably practicable a safe and healthy workplace for all our employees and others who may be affected by our activities.
We have in place a comprehensive HSE Management System is to identify, assess and control the HSE risks arising from our activities. Accordingly, our policy it to:
• Comply with all HSE applicable national and international standards that are used in the field of the industries we operate in and use the best industry practices;
• Implement HSE Management Systems;
• Prepare for all emergencies and train employees on contingency plans enabling effective response to any HSE undesirable event
• Make our work place free recognized hazards, and to reduce residual risks associated with our work to as low as reasonably practicable.
• Minimize the impact of our operations on the environment where we operate.
• Provide safe equipment, adequate tools and training, and the necessary protective equipment.
• Maintain and deploy competent and professional staff to perform our services.
• Continually review and assess the performance of the HSE Management Systems and systematically apply improvements.
• Report, investigate and analyse all HSE incidents to prevent recurrence;
• Select industrial and business partners based on their ability to comply with ethics and international standards;
• Communicate and promote HSE issues to all employees and contractors in a positive way;
• Hold management responsible and accountable for implementing this policy, and ensures it is followed.
• Hold each supervisor accountable for assuring that the employees, equipment and facilities within their area of responsibility are in compliance.
• Hold each employee responsible for maintaining his work areas and work practices in compliance with this policy. This policy will be reviewed annually to ensure it stays relevant and appropriate to our strategic objectives and operational activities.


It has been the policy of Netaffairs Communication Limited to maintain peace and a very cordial relationship with communities where we are involved in any project. Netaffairs intend to do just that in the communities where we will be involved in, by the following ways:
• Letting the community know any benefits they may derive from our operations there.
• Employment of qualified and semi-qualified youths of the community in our projects as the need arises.
• Rendering financial assistance to development projects that may be undertaken by the communities.
• Developing community empowerment programmes which provide opportunities for our staff to share their skills and expertise.
Netaffairs ensures maximum satisfaction and trust by our customers, paying the utmost attention to our customers and giving our top priority to the quality of products and services.

Management is committed to this policy and has put in place a series of procedures to ensure that its operations are in consonant with the Highest Quality Standards and client expectations. All the Company's employees, contractors, sub-contractors and other operators are accordingly required to conform to these procedures.

We will continue to achieve this goal and meet our customer's needs through:
• Our strict adherence to industry standards and regulations.
• Employing only capable, highly trained and certified professionals.
• Continually upgrading employee qualifications through our on-going Safety Health and Environmental training program.
• Performing all tasks in the safest and most professional manner possible, consistent with good construction practice.
• Effective communication with clients and thorough job planning.
• Working to schedules and budgets.
• Ensuring maximum protection of the environment.
• Minimum inconvenience to the customer.
It is the policy of Netaffairs to maintain the highest standard of ethics in the conduct of its business and in its relations with whomever it does business or is associated — its employees, directors, shareholders, customers, associates and suppliers, as well as with governments, the media and the public. The company's integrity and reputation for ethical practices are among its most valued assets and are essential elements in its continued quest for sustained profitability. Such integrity and reputation ultimately depend upon the individual actions of its employees, officers and directors, representatives, agents and consultants. Each employee is therefore personally responsible and accountable for compliance with the Code of Ethics and Business Conduct. Its provisions are mandatory and full compliance is expected of all employees as a condition of employment. Netaffairs Communication Limited holds corporate ethical values and image in the highest esteem and therefore shall passionately conduct its business in a corrupt-free, anti-fraud and highly ethical manner that